2021
What great successes for In Style and Renate van Uytert van Vliet.
Dutch Champion ZZ-Z
1st part N.K. ZZ-Zwaar N.K. Ermelo; winner with 76.229%
2nd part N.K. ZZ-Zwaar Freestyle to Music; winner with a score of 77.32%
31 Oct. Winning Prix St. Georges debut in Den Hoorn with a score of 75.37%
14 Nov. Winner Prix St. Georges in Liempde with a score of 75.37%
Despite a limited number of competitions, In Style and Renate developed even more together. During the N.K., In Style and Renate showed a beautiful test with great charisma in the ZZ-Zwaar final. Their Freestyle score of 77.042% earned them 3rd place, and they were awarded 4th place in the final standings. In Style was also selected for the World Cup for young Dressage horses, this time with the 7 year-olds, for the third year in a row.
In Style descendants also show his excellent character and attitude. My 7th Sunday, his 3-year-old son (x Cadans M), won Reserve champion in the Pluvinel young talent competition with 86 points. At the recent Stallion Show, two In Style sons were nominated for the second viewing: Newton's Law (mv. Johnson) bred by Fam. van de Veen from Opeinde and Nero (mv. Oscar) bred by T.B. Hassink from Zeewolde. In early 2021, Nero was also approved for the Oldenburger Pferdezuchtverband.
2020: In the Final Stallion Competition class Z/ZZ, In Style and Renate's great ride earned 91 points:  
Step 9.0 - Trot 9.0 - Canter 9.5 - Harmony 9.0 - General impression 9.0 - Total 91 points 
2019 The successes continue for Renate and In Style
2nd pl. Stallion competition class Z / ZZ Zuidbroek with 90 points
2nd pl. Stallion competition class Z / ZZ Ermelo with 93 points
2nd pl. Stallion competition class Z / ZZ De Peelbergen with 87 points
8th pl. World Cup for 6-year-old dressage horses directly to the final with 8.54%
2018
In Style and Renate van Uytert- van Vliet have had an amazing year
Winner Stallion competition class M Zuidbroek with 89 points
Winner (ex aequo) Stallion competition class M Ermelo with 88 points
Third place Stallion competition class M De Peelbergen with 85 points
World Championship for 5-year-old dressage horses straight to the finals with 8.58% 
2017
In Style and Renate van Vliet compete successfully during the KWPN Stallion show and Subli Cup
Winner (ex aequo) Stallion competition class L, Zuidbroek
Reserve champion semi-finals in the Subli Cup
Second place Stallion competition class L Ermelo
 
Renate van Uytert- van Vliet said: "In Style only has good points in working with him and in riding. He is just a dream horse. He learns really fast and overall you only need little effort to train him.  He is such a joy to ride every time".
In Style is a combination of the best Holstein Grand Prix competition bloodlines and proven Dutch lineage. His father Eye Catcher, won bronze in 2014 and 2015 with Kristen Brouwer in the World Championship Verden. Eye Catcher is out of the excellent Preferent stallion Vivaldi x TCN Partout the Trakehner Grand Prix stallion, who has been ridden by Anky van Grunsven.
2017 offspring inspection comments
In Style foals presented a uniform development, appealing exteriors, and long legs. The foals are shaped in a rectangle model and have a well- shaped front, of which the neck shape stands out positively. 
The foal group is correctly built. The foundation is correct and exceeds quality. The walk is more than sufficient with flexibility.  The trot is powerful with good stride length, as well as a lot of flexibility and balance. The foals canter easily with powerful, ground-covering strides, a lot of flexibility, and more than enough balance. Several of the foals showed a very good hind leg.
Overview
Dressuurpaard

Donkerbruin

10 years old

169 cm

KWPN
Oldenburg

Hannover

Fresh

Holst Stamm 2004

Aanvullende info

Genome 102
WFFS-free

* Price direct checkout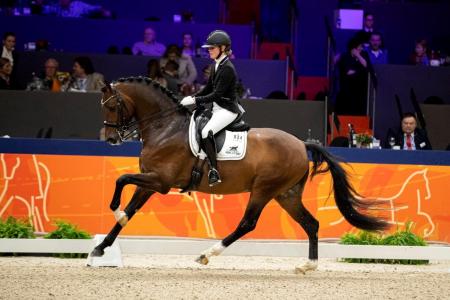 In Style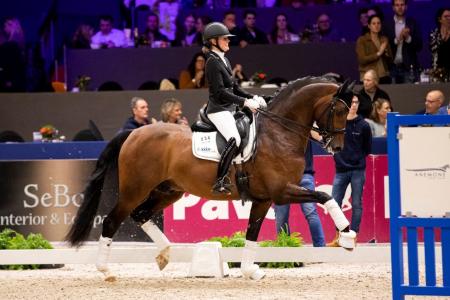 In Style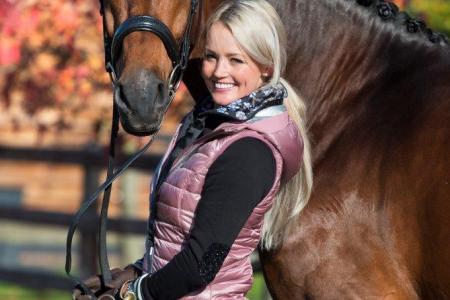 In Style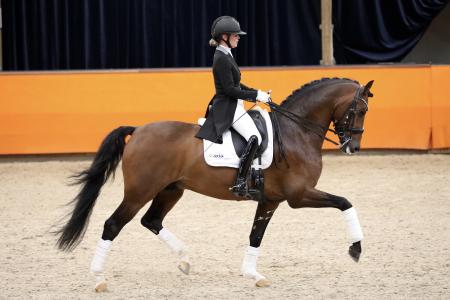 In Style
2016: Reserve champion Performance Dressage Test 
Performance
KWPN Onderzoeksrapport:
Stap: 8.5
Draf: 8.5
Galop: 8.0
Souplesse: 8.5
Houding en balans: 8.5
Rijdbaarheid en instelling: 9.0
Aanleg als dressuurpaard: 8.5
Totaal: 84.5