Livius has put down a whole row of stable and good classifications in 2021. It started with the qualification for 5-year-old dressage horses. Here Livius showed himself extremely well under Gerrel Vink and they were allowed to participate until the last selection. Then the Pavo Cup, in the semi-finals they came in 7th place with 84 points and during the final they got a nice score of 83 points. This was also a very nice closing for Gerrel Vink and after that Livius came under the saddle of top rider Danielle Heijkoop, who immediately started him in the KWPN Stallion Competition after a short period. We see their progress per competition and Livius, in our opinion, will develop into a very fine and workable dressage horse and seems to have a lot of talent for the collection.
In 2021 his foals again made a big impression at the foal inspections and auctions in the Netherlands. He gives a high average to very good moving foals with an extra front leg. A topper that can certainly be mentioned in Riley Rules mv. Florencio bred by Annabel Bonhof-Hosmar who sold at the EDS auction for €40,000.-
2020
Everywhere we saw the foals of our stallion Livius stand out last summer with their fantastic front leg. They sold very well at several foal auctions. During the Excellent Dressage Sales, no fewer than 4 of his foals were sold for more than € 100,000! His dam Blueberry-Utopia was always praised for her mega front leg. Livius himself also has a great front leg, in addition to his mother and mother's father Vivaldi, this is so strongly anchored in him that he passes this on very strongly to his children. This, in combination with the strong connections that his sire Bordeaux passes on, can make Livius an extremely strong breeding stallion.
Complete stallion: Stallion model with 3 good basic gaits!
Very interesting bred:
Bordeaux x Vivaldi x Nimmerdor x Aktion
Very good offspring report:
The foals of Livius are more than adequate to very well developed. They are more than adequate to very good in the rectangle model and have a lot of appearance. The foals have an appealing presence, with a more than adequate long neck that is vertical and well muscled. The shoulder is well positioned, with several foals the shoulder is clearly slanted. The back and loins are well muscled. The foreleg is correct when viewed from the side, when viewed from the front it is generally correct. The hind leg is generally correct. The pastern position is usually correct. The walk has more than sufficient scope. In the trot the foals show more than sufficient scope and more than sufficient to much suppleness, power and balance. The canter has more than sufficient scope and more than sufficient to much suppleness, impulsion and balance.
2019 KWPN Official Research Report
Livius is an honest and reliable stallion with a very good attitude. The stallion has a lot of willingness to work and is very easy to work with.
Walk--pure, long stride, with good scope and good suppleness.
Trot--light-footed and has good scope with a hind leg that carries well.
Canter--good impulsion, uphill with good to very good scope and balance.
Livius moves with good to very good posture, a lot of balance and a lot to very much flexibility. He a great deal of talent for dressage and gives his rider a good feeling.
Stable behavior:
Honest reliable stallion, easy going and quiet in the stable.

Breeding / fitting advice:
Livius can add size, shoulder freedom, and rideability to dressage horse breeding.
Pedigree
Livius' sire is our successful Grand Prix breeding stallion Bordeaux.
The dam side also contributes excellent genetics for dressage.  
Dam-- Blueberry-Utopia elite, sport (dres) is classified ZZ Zwaar and after her sport career started breeding; Livius is her first foal
Grandmother-- Lady Utopia, champion of North Brabant and double UTV, has the predictions star, preference and achievement titles. She produced Small Tour star mare Angelina-Utopia (s. Tuschinski) and the ZZ Licht horse Rambo-Utopia (s .Rohdiamant).
Great-grandmother—Light Tour mare Halla Utopia (s.Aktion) who produced approved stallion Olivi (s. Jazz), ridden Grand Prix by Marc Boblet, as well as Intermediaire I Bolzano Utopia (s. Rubin Royal), and Light Tour Frederico Utopia (s. Wynton).
Overview
Dressuurpaard

Donkerbruin

7 years old

173 cm

KWPN

Hannover

Fresh

Nomana-stam, Merrielijn 2, fokfamilie 8

* Price direct checkout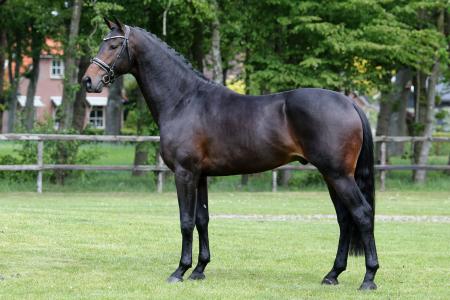 Livius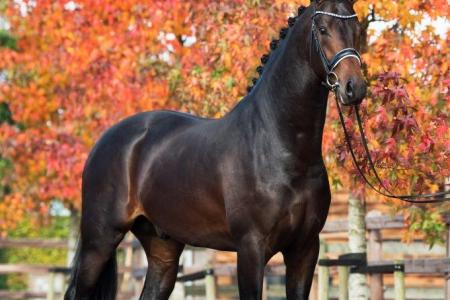 Livius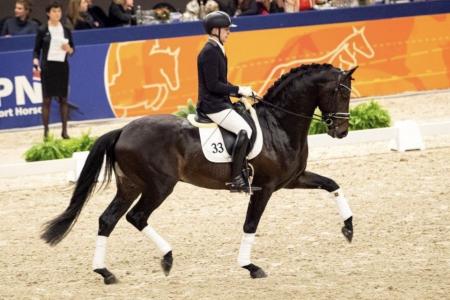 Livius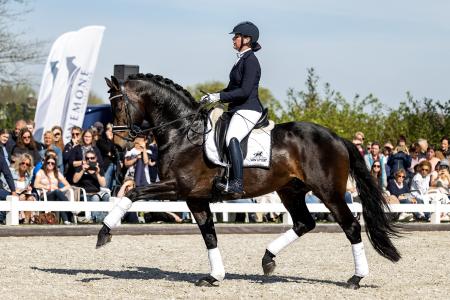 Livius
The son of our top stallions Bordeaux and Vivaldi, who excels with his light-heartedness and riding qualities
Performance
KWPN Onderzoeksrapport:
Stap: 8.5
Draf: 8.0
Galop: 8.5
Souplesse: 8.5
Houding en balans: 8.5
Rijdbaarheid en instelling: 9.0
Aanleg als dressuurpaard: 8.5
Totaal: 84.5