*       04 May wonderful Prix St. Georges debut under Renate van Uytert – van Vliet with 72.64%
                         *       Winner Prix St. Georges Beesd with a score of 76.18%
                         *       Winner of the small final N.K. Dressage with a score of 69.71%
Ferdeaux returned to Heerewaarden in 2020. Renate rehabilitated him after an injury, and she now hopes to begin showing Ferdeaux on the Small Tour this year, in addition to training and showing her young stallions.  We hope that this wonderful combination, seen in photos and videos, leads to a great future.
Ferdeaux' offspring started making a name for themselves in 2020, with several winners in IBOP winners and young horse competitions. Dressage people are talking about how well Ferdeaux offspring develop as they get older, with their strong canters and talent for collection.
Ferdeaux: father of Las Vegas, the powerhouse performance topper with 90 points!
2019
What a strong beginning of 2019 for our young top stallion Ferdeaux and his father Bordeaux. Ferdeaux produced three sons selected for the KWPN Performance test.
Lacrosse RS2 (x San Remo) bred and owned by RS2 Dressage, Horst BV designated, and chosen for Champion Inspection.
Lardeaux (x Wynton), a powerful mover bred by John Deenen and owned by Nico Witte and Paardencentrum from Dalhoeve.
Lord Vrijnesse (x Sandro Hit) bred by Sander de Blaauw and owned by Margreet Prosman.
2018
The offspring from Ferdeaux have stood out throughout the year. During the young horse classes, IBOP and mare tests, Pavo Cup and KWPN Stallion Competition. The year ended very successfully at the KWPN pre-selection with five designated sons for the Stallion Inspection in Den Bosch.
2017
Winner with 72.96% and entry to Jumping Amsterdam
Winner Light Tour debut with 70.34% in De Mortel
World Championship Ermelo high classification for 7-year old Dressage horses
During selection at World Cup Ermelo, highest placed horse in the last round
A super breeding year for Ferdeaux: 2 sons KWPN approved, Jerveaux and Jarville. In addition, mare Jindy National became 6th in the Koninginnenrubriek of the 3-year-old mares.
Ferdeaux made a very good impression with his sons during the first viewing of the KWPN Stallion Show. Of the nine Ferdeaux sons, no fewer than five were invited to the 2nd viewing in Den Bosch. Ferdeaux seems to be strongly inherited and with his sons the canter was almost without exception a strong point. Our stallion Jackpot (mv. Metall) is a real eye-catcher.
Ferdeaux himself has interesting bloodlines. His mother, a competition mare Part Two, has produced four Prix St. Georges horses.
U- Two and Winne-Two by Goodtimes
Double Trouble Two by Jazz
Ferdeaux by Bordeaux
Overview
Dressuurpaard

Donkerbruin

13 years old

172 cm

KWPN

Oldenburg
Hannover

Fresh

Family Unknown

Aanvullende info

Genome 97 
WFFS free

* Price direct checkout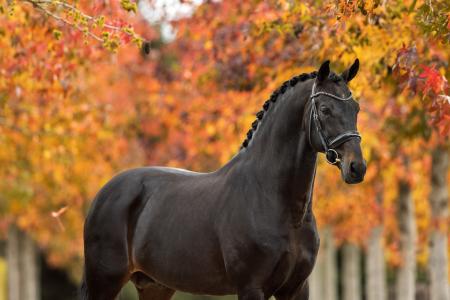 Ferdeaux
Ferdeaux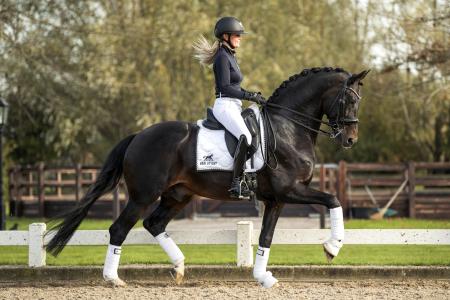 Ferdeaux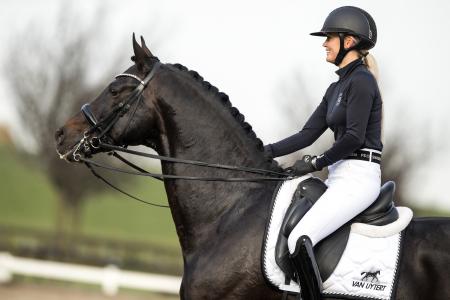 Ferdeaux
Winner KWPN / KNHS stallion competition class M 2015/2016
Performance
KWPN Onderzoeksrapport:
Stap: 8.0
Draf: 8.0
Galop: 9.0
Souplesse: 8.5
Houding en balans: 8.5
Rijdbaarheid en instelling: 8.5
Aanleg als dressuurpaard: 8.5
Totaal: 84.0