Extreme U.S., what a horse! He has a very nice exterior, 3 very good gates, and out of a super bloodline.
His mother Viva Contana is the half-sister of the mother of Glock's Total U.S., Dante U.S., Mister U.S., and the famous mare Zantana RS2, the mother of Fürst Zonik.
Extreme U.S.: https://www.horsetelex.nl/horses/pedigree/2268162/extreme-u-s-
Sondra: https://www.horsetelex.nl/horses/progeny/1687593

Pedigree:
Extreme U.S. is the first at the KWPN approved son of Escamillo. As a six year old Escamillo won silver at the world championships for young horses in Verden. The Escolar-son Escamillo was premium stallion en won the German sport test. The mother of Extreme U.S. is the Hanover mare Viva Contana PS, a daughter from the preferent stallion Vivaldi. De mother line of Extreme U.S. follows with the Don Schufro Daughter Contana. In combination with Sandro Hit Contana gave birth to Swagman, approved by several German studbooks, as well as the international Grand Prix horse Swagman 2, and the Small Tour horse Equiscio's Welldone. Contana also serves as grandmother of the KWPN approved stallion Total U.S., who performs at international Grand Prix level, and the sport horses Great Gatsby PS and Zaid 3. This dam line has many stallions approved in other studbooks, as Dante U.S., Debutant PS, and Fürst Zonik PS. Great-grandmother Contia (S. Continue) is both mother and grandmother of many well-performing show jumpers.

Official KWPN research report 2022:
Extreme U.S. is a balanced, reliable, rider-focused stallion with a very good attitude. The stallion has a lot of work ethic and can be worked very well by his rider.
The walk contains much activity, is pure in four beats, and is very good in scope with much use of the body.
The trot has good scope and impulsion. Extreme U.S. has a very good front leg technique and a good hindleg that comes under and carries himself very well.
The canter is uphill and very powerful. He canters with a lot of self-carriage and scope.
Extreme U.S. moves with a lot of tact and a very good leg technique, self-carriage, and balance,  whereby his ability to switch stands out very positively. As a dressage horse, Extreme U.S. has much to very much talent and gives his rider a very good feeling.

Stable behaviour:
Honest and reliable stallion, easy to handle, and quiet in the stable.

Breeding/adaptation advice:
Extreme U.S. can improve movement technique, body use, rideability, and disposition. He can add shifting ability to the dressage horse breeding program.
Order semen: orders@uytert.nl
Name and address mare owner – Activaty nr. - Mare details – Which stallion – Delivery date
Breeder:
Gestüt Lewitz
Lewitzhof 1
DE-19306 Neustadt-Glewe
Germany
Overview
Dressuurpaard

Zwart

4 years old

171 cm

KWPN
Oldenburg
AES-approved

Fresh

Oldenburger Stamm 149

* Price direct checkout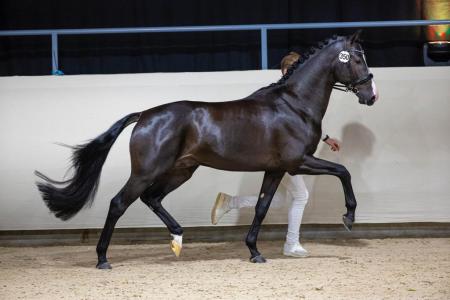 Extreme U.S.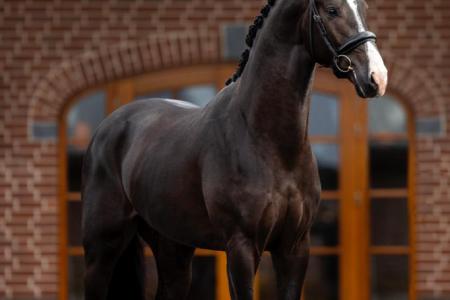 Extreme U.S.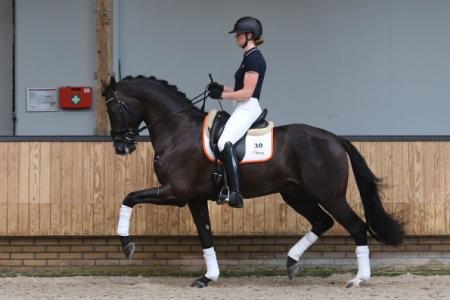 Extreme U.S.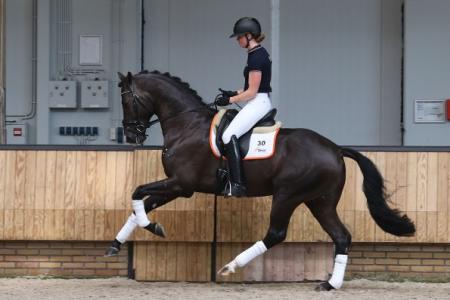 Extreme U.S.
Een hengst met de WOW-factor!
Performance
KWPN Onderzoeksrapport
Stap: 9.0
Draf: 9.0
Galop: 8.5
Souplesse: 9.0
Houding en balans: 9.0
Rijdbaarheid en instelling: 9.0
Aanleg als dressuurpaard: 9.0
Totaal: 89.0